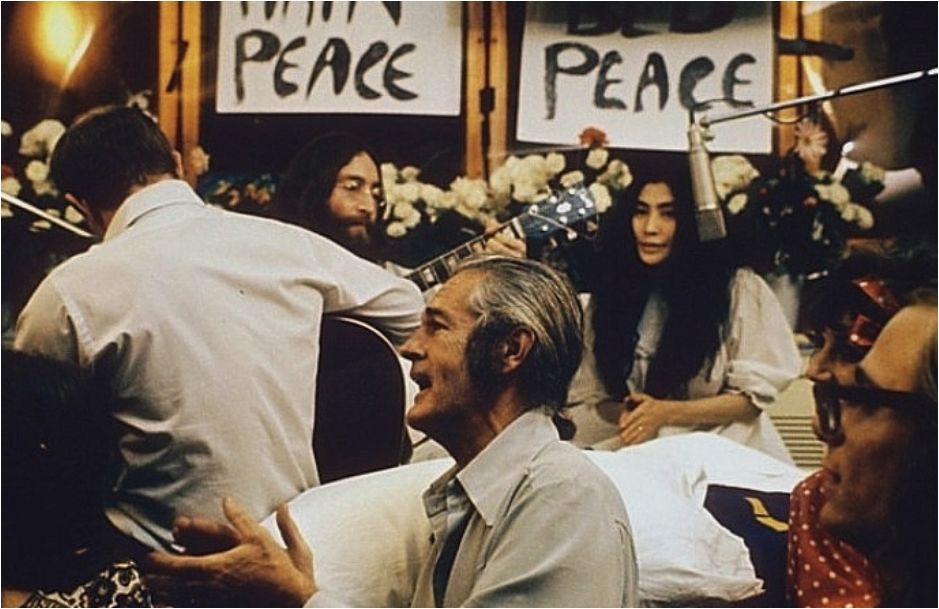 Krieg ist in, Frieden offenbar out. Man ist gegen Aggressionen, will ihnen entgegentreten, denkt aber nicht allzu tief in Kategorien der Vorbedingungen für den Frieden. John Lennons Song "Give Peace a Chance" war naiv. Aber gerade darin widerspiegelte er die tieferliegende Frage, ob man den wirklichen – nachhaltigen – Frieden in der Moderne je gewollt hat.
Es gibt Songs, die ihre Anziehungskraft daraus beziehen, dass sie sich ohrwurmartig einprägen, indem sie einen Slogan in simpelste Musik einkleiden und als zelebriertes Ostinato hartnäckig wiederholen. Die Beatles haben diesen Kunstgriff als Abschluss einiger ihrer Songs zur wahren Meisterschaft gebracht. So endet "Hey Jude" mit einem lange wiederholten "Nah-nah-nah-nah-nah-nah-nah… Hey Jude", wobei die stetig wiederkehrende Melodie von variierten kontrapunktischen Sprech- und Schreieinlagen begleitet und umspielt wird. Auch "All you need is love" endet mit einer dauerhaft repetierten "Love is all you need"-Folge, in welche ein barockartiges Trompetenmotiv, eine jazzige Saxophonmelodie, das altenglische "Greensleeves" und ihr eigenes "She loves you – yeah, yeah yeah" in raffiniertem Wechselspiel eingeflochten sind.
Eine Variante dieser musikalischen Eigenart, die ihre Wurzeln in der Gospelmusik haben dürfte, findet sich im mittlerweile legendär gewordenen "Give Peace a Chance" von John Lennon, das vor 53 Jahren aufgenommen wurde. Die Aufnahme selbst war ein Ereignis, denn sie fand im Rahmen eines von John Lennon und der mit ihm frisch vermählten Yoko Ono veranstalteten Bed-Ins statt, also einem im öffentlichen Raum zelebrierten Bettaufenthalt (von Lennon und Ono) als Friedenskampagne im Geiste der Parole "Make love, not war". Bei diesem Hotelzimmer-Ereignis waren viele zugegen, unter ihnen Vertreter der damaligen Kultur-, Hippie- und Pop-Prominenz wie Allen Ginsberg, Timothy Leary, Derek Taylor und Petula Clark; auch Mitglieder des kanadischen Radha-Krishna-Tempels, die im Zimmer tanzten und sangen. Der melodischen Mantra-Kultur dieser Sekte weiß sich wohl auch der Refrain von "Give Peace a Chance" verpflichtet.
Der Song setzt sich aus einer mehrmals wiederholten Vers-Refrain-Form zusammen. Der Vers besteht jeweils aus rapartig skandierten Wortkaskaden ohne Melodie, aber rhythmisch artikuliert. So deklamiert Lennon gleich zu Beginn: Ev'rybody's talking about / Bagism, Shagism, Dragism, Madism, Ragism, Tagism / This-ism, that-ism, is-m, is-m, is-m. Darauf ertönt der Refrain aus dem Munde aller im Hotelraum Anwesenden: All we are saying is give peace a chance. Die musikalische Spannung verdankt sich dem Kontrast zwischen dem rhythmischen, stakkato vorgetragenen, jedoch melodielosen Vers und dem harmonisch einfachen, melodisch aber ausgreifenden, gleichsam durchatmenden Refrain. Das musikalische Material erzeugt dabei eine Parallele zur inhaltlichen Wortaussage: Gegenüber der dadaistischen Verhunzung der aneinandergereihten Ismen erhebt sich die pazifistische Botschaft der Aufhebung von Separatismus und ideologischem Wettstreit. Über allem erstrahle der Frieden.
So auch im nächsten Vers: Ev'rybody's talking about Ministers / Sinisters, Banisters and canisters / Bishops and Fishops and Rabbis and Pop eyes / And bye bye, bye byes Durch die Verbindung von Politikern mit Finsterlingen, die Wortspielerei mit Bischöfen und Fischhöfen und der allitarativen Assoziation von Pop eyes und bye byes wird mit kritischem Nonsens das aufgestellt, was wiederum im Frieden aufgehoben werden möge. Das gleiche Kontrastverhältnis wird auch bei der dritten und vierten Strophe gewahrt. Die Botschaft stets: Gebt dem Frieden eine Chance.
Die Chance wurde seither wenig gewährt. Und elf Jahre nach der Entstehung dieses von leichter Euphorie und großer Hoffnung beseelten Songs wurde John Lennon erschossen.