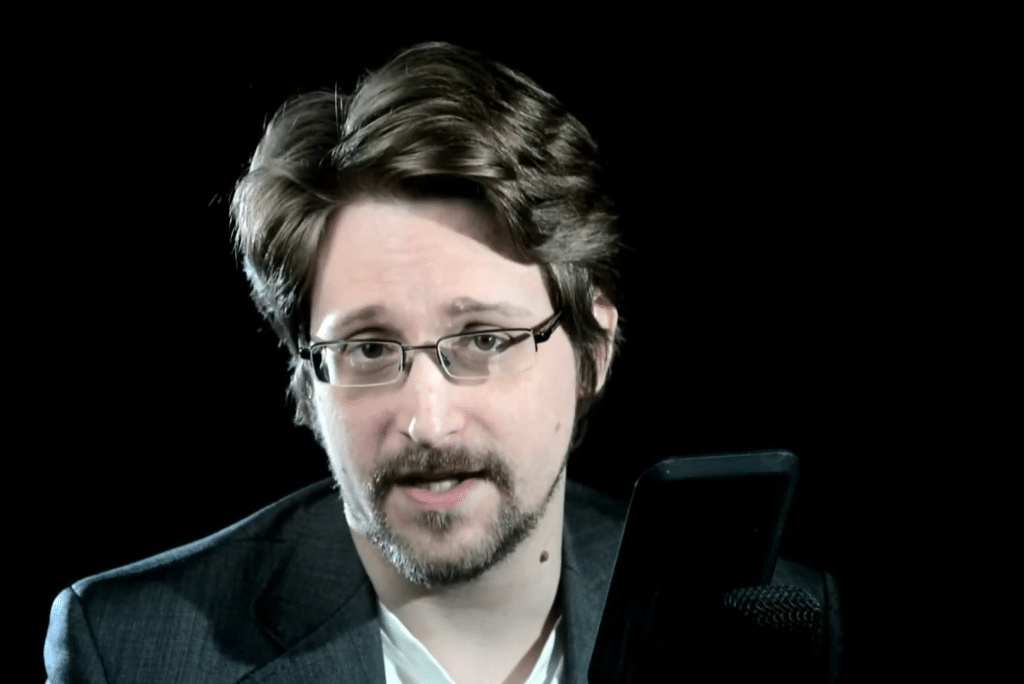 Videobotschaft von Edward Snowden an die Teilnehmer der Unteilbar-Demonstration. Er warnt vor einer neuen Art von Zensur.
Anlässlich der "Unteilbar"-Demonstration vergangenen Samstag in Berlin mit rund 10.000 Teilnehmenden unter dem Motto "Für eine solidarische und gerechte Gesellschaft" meldete sich der Whistleblower und ehemalige CIA- und NSA-Mitarbeiter Edward Snowden mit einer Videobotschaft zu Wort, die er im russischen Exil extra für die Demonstration aufgenommen hatte.
Der Präsident der Freedom of the Press Foundation Edward Snowden sieht die zivile Sphäre in der Corona-Krise zunehmend gefährdet durch technologische Überwachung seitens staatlich geförderter Unternehmen und zeigt sich besorgt über "eine neue Art von Zensur, die sich weltweit ausbreitet". Im Folgenden die Botschaft gekürzt in deutscher Übersetzung:
Wenn wir uns die Situation ansehen, die Herausforderungen, denen Deutschland und die Welt gegenüberstehen; wenn wir die Corona-Krise betrachten, und die Reaktionen der Institutionen darauf, sowohl jener der Wirtschaft als auch jener des Staates; wenn wir die Verletzlichkeit der technologischen Systeme betrachten, mit denen wir tagtäglich zu tun haben, die unseren Alltag regeln, und den Fakt betrachten, dass wir jetzt eine neue staatlich finanzierte (Un-)Sicherheitsindustrie haben, von Unternehmen in Deutschland, Frankreich, Italien, Israel und natürlich in den Vereinigten Staaten und anderswo – sie machen nichts anderes, als ständig neue Wege zu finden, unsere Handys, Services und Computer zu hacken –, dann beobachten wir, dass unser öffentlicher, ziviler Raum zur Zielscheibe wird.
Wir werden dabei weniger als Partner gegenüber der Regierung behandelt, gegenüber Macht im Allgemeinen, stattdessen werden wir untergeordnet, werden abhängig gemacht. Und das bereitet mir Sorgen! Wir glaubten einmal – bzw. als wir jünger waren, wurde uns gesagt, dass wir es glauben sollten –, dass es diese Welle freiheitlicher Energie gebe, die Schritt für Schritt eine immer freiere Welt schaffen würde. Und wir sollten glauben, dass diese Entwicklung unausweichlich endlos fortschreiten würde. Aber als die Dinge begannen, schwierig zu werden, als sich die politische Situation anspannte, als all diese neuen Institutionen begannen, ihre Einflussmöglichkeiten zu nutzen, unsere Meinung zu verändern, uns zu spalten (neue Begriffe tauchten auf, "Fehlinformation", "Desinformation", "Fake News"), da realisierten wir, dass Fortschritt sich nicht zwangsläufig von allein einstellt, sondern jemand ihn aktiv herbeiführen muss. Und ihr seid heute Teil dieses Prozesses.
"Wahrscheinlich sollten wir uns dem widersetzen"
Wir haben leider nicht viel Zeit und ich will mich kurz fassen: Wenn ihr die Beobachtung macht, dass in irgendeiner neuen Krise die Reaktion auf diese Krise darin besteht, dass ein Politiker oder ein Unternehmen sich hinstellt und erzählt, wir müssten Veränderungen daran vornehmen, wie wir die Dinge bisher gehandhabt haben, in einer Art und Weise, die die Freiheit der Individuen und der Gesellschaften massiv beschränkt – denkt gründlich nach! Und ich denke, wahrscheinlich sollten wir uns dem widersetzen. Insbesondere, wenn es als Rechtfertigung dafür dient, die Art und Weise wie wir miteinander kommunizieren, miteinander umgehen, einzuschränken.
Ich denke dabei an diese neue Art von Zensur, die wir derzeit weltweit beobachten können. Wenn Leute Dinge behaupten, die wahr oder falsch sind, ist es nicht Sache des Staates zu entscheiden, was gesagt werden darf und was nicht, es ist eine öffentliche Angelegenheit, keine Sache des Staates. Gebrauch und Missbrauch von Sprache ist eine gesellschaftliche Angelegenheit. Das zentrale Problem, wenn jemand etwas Lächerliches behauptet, ist nicht, dass er etwas Unwahres gesagt hat, sondern, dass jemand anderes es hört, der nicht fähig ist zu erkennen, dass es unwahr ist. Es ist daher notwendig, dass die Menschen die Fähigkeit entwickeln, nicht nur Dinge zu hören und sich zu merken, nicht nur zu lesen und zu glauben, sondern zu analysieren und zu kritisieren! Denn ihr alle hier seid kritische Stimmen, ihr seht, was in der Welt geschieht, was in Deutschland geschieht, und ihr denkt, das kann man besser machen! […]
Wir müssen gelegentlich Entscheidungen treffen zu akzeptieren, dass es in der Welt Risiken gibt, dass Kosten und Konsequenzen existieren, aber wenn wir, während wir zusammenarbeiten, gemeinsam Opfer bringen, können wir zusammen etwas bauen. Manchmal können wir eine Leiter bauen, die uns aus einem Loch herausführt, in dem wir uns befinden, hinaus in eine bessere Welt.
"Bildung allein reicht nicht!"
Wenn wir Themen wie das Klima betrachten, müssen wir sie jetzt angehen. Information und Bildung sind gut und wichtig, aber das allein reicht nicht. Und wenn wir darauf vertrauen, dass dieselben Leute dieselben Dinge tun, die sie immer gemacht haben, werden wir hier in dreißig Jahren noch sitzen. Mein Sohn wird dann erwachsen sein. Wenn er sich dann umschaut und sieht, dass die Welt in Flammen steht, wird er Fragen stellen, an mich, an euch: Warum haben wir nicht mehr getan? "Don't stop, no matter what anyone says!"
Übersetzung von Wiebke Priehn.
Weitere Texte von Edward Snowden hier.