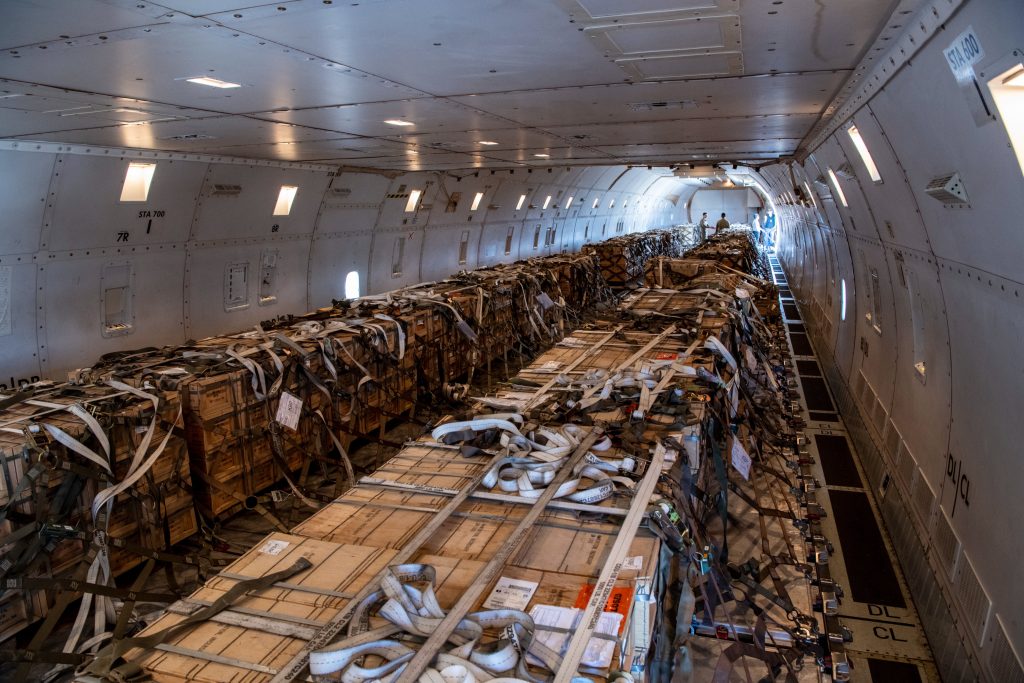 "Massive Waffentransfers in die Ukraine zu beschleunigen und einen neuen Krieg mit einem atomar bewaffneten Russland anzuzetteln", ist eine schreckliche Idee, warnt ein führender Friedensaktivist.
Trotz der Warnungen, dass ein gefährlicher Krieg mit Russland bald entfesselt werden könnte, wenn die diplomatischen Bemühungen scheitern, wollen die Demokraten im Repräsentantenhaus Berichten zufolge die üblichen Verfahren umgehen und eine Abstimmung über ein Gesetz beschleunigen, das 500 Millionen Dollar Militärhilfe an die Ukraine schicken würde – ein Schritt, der laut Kritikern nur Öl ins Feuer gießt.
The Intercept berichtete am Dienstag, dass "die Demokraten im Repräsentantenhaus planen, einen massiven Gesetzentwurf voranzutreiben, der die US-Sicherheitshilfe für die Ukraine drastisch erhöhen und die Grundlage für umfangreiche neue Sanktionen gegen Russland schaffen würde –  eine übereilte Durchsetzung einer dem Krieg zugeneigten Position ohne die Möglichkeit eines Dissenses, während die Bedenken über eine militärische Invasion überhand nehmen."
"Die Sprecherin des Repräsentantenhauses, Nancy Pelosi (D-Calif.), teilte den Abgeordneten in einer Fraktionssitzung am Dienstag mit, dass sie den Gesetzesentwurf nicht mehr prüfen, sondern direkt in den Plenarsaal einbringen wolle, so dass eine Abstimmung bereits Anfang nächster Woche möglich wäre", berichtet The Intercept unter Berufung auf zwei ungenannte Quellen im Kongress.
Das Gesetz, das offiziell Defending Ukraine Sovereignty Act of 2022 heißt, wird von 13 Demokraten im Repräsentantenhaus und 41 im Senat unterstützt, darunter auch Mehrheitsführer Chuck Schumer (D-N.Y.).
Die Nachricht über den Vorstoß für eine rasche Verabschiedung des Gesetzes kommt nur einen Tag, nachdem Präsident Joe Biden 8500 US-Soldaten für einen Einsatz in Osteuropa in Bereitschaft versetzt hat und nachdem die Stimmen der Kriegsgegner gegen militärische Aktionen lauter wurden.
Ein hochrangiger Berater der Demokraten sagte gegenüber The Intercept, dass der Plan der Führung des Repräsentantenhauses, die Abstimmung über die Ukraine-Maßnahme zu beschleunigen, "die Art und Weise ist, wie der Raum für nicht-militärische Optionen in Washington langsam und ohne eine wirkliche Debatte verschlossen wird".
Mit der Verabschiedung würde der Gesetzentwurf 500 Millionen Dollar an zusätzlicher Sicherheitshilfe für die Ukraine genehmigen, falls Russland in das Land einmarschiert. Der Gesetzentwurf würde auch 3 Millionen Dollar für "internationale militärische und pädagogische Ausbildung" für die Ukraine bereitstellen und die US-Sanktionen gegen Russland verschärfen.
"Ist Pelosi verrückt, weil sie massive Waffentransfers in die Ukraine vorantreibt und einen neuen Krieg mit einem atomar bewaffneten Russland anzettelt? Haben diese Demokraten es nicht kapiert?" sagte Medea Benjamin, Mitbegründerin der Antikriegsgruppe CodePink, gegenüber Common Dreams als Reaktion auf die Nachricht von den Plänen der Demokraten im Repräsentantenhaus. "Das amerikanische Volk will keinen weiteren Krieg!"
"Wir können uns viel bessere Zwecke für die Verwendung der 500 Millionen Dollar vorstellen als Waffen für die Ukraine, die den Konflikt nur verschärfen und die Kriegsmaschinerie füttern", fügte Benjamin hinzu. "Was wir dringend brauchen, ist Deeskalation und energische Diplomatie, einschließlich Garantien, dass die Ukraine nicht der NATO beitreten wird."
Es ist unklar, wie viel Widerstand der Versuch, die Ukraine mit mehr US-Waffen zu versorgen, innerhalb der demokratischen Fraktion hervorrufen wird, die sich schwer tut, Gesetze zu verabschieden, die dringenden inländischen und globalen Krisen – von Kinderarmut bis zum Klimawandel – entgegentreten.
Kein Republikaner hat die Ukraine-Gesetzgebung mitgetragen, die im Repräsentantenhaus von Gregory Meeks (D-N.Y.) und im Senat von Bob Menendez (D-N.J.) angeführt wird.
Warren Gunnels, Stabschef von Senator Bernie Sanders (I-Vt.), twitterte ein Anti-Kriegs-Zitat des verstorbenen Rappers Tupac Shakur als Reaktion auf den Bericht von The Intercept über den Plan der Demokraten im Repräsentantenhaus. Sanders gehört nicht zu den Mitbefürwortern des Ukraine-Gesetzes im Senat.
Auch ohne Entscheidungen des Kongresses liefern die USA derzeit massenhaft Waffen in die Ukraine, wie der Tweet des ukrainischen Verteidigungsministers Oleksii Reznikov vom Sonntag zeigt, der die Ankunft von "80 Tonnen Waffen" von "unseren Freunden in den USA" begrüßte.
Wie die New York Times am Dienstag berichtete, haben die USA "Estland, Lettland und Litauen autorisiert, Stinger-Flugabwehrraketen an die ukrainischen Streitkräfte zu liefern und damit die Lieferungen von Javelin-Panzerabwehrraketen an die Ukraine zu ergänzen, die Großbritannien in diesem Monat begonnen hat".
Die Entwicklungen der letzten Tage haben die Befürchtung verstärkt, dass die USA kurz vor einer neuen Militärintervention stehen, die verheerende Folgen für die Menschen haben könnte.
Bridget Moix vom Friends Committee on National Legislation warnte am Dienstag vor einer Militäraktion und drängte alle Parteien zu diplomatischen Gesprächen: "Krieg bedeutet ein katastrophales Versagen der Regierungen, ihre grundlegendste Aufgabe zu erfüllen, nämlich für die Sicherheit ihrer Bürger zu sorgen."
"Präsident Joe Biden und Mitglieder des Kongresses, wenn Sie die  NATO erweitern, wäre dies eine unnötige Provokation und eine unkluge militärische Verpflichtung", fuhr sie fort. "Eine solche Erweiterung vom Tisch zu nehmen, würde Russlands wichtigstes Sicherheitsproblem ansprechen und die Wahrscheinlichkeit verringern, dass US-Truppen in einen weiteren, nicht zu gewinnenden Krieg geschickt werden. Allein dadurch, dass Sie dies anerkennen, könnten Sie Tausende von Menschenleben und Milliarden von Dollar retten."
Der Artikel erschien im englischen Original in CommonDreams.org unter der CC-Lizenz BY-NC-ND 3.0. Übersetzung von Florian Rötzer mit der Hilfe von DeepL.