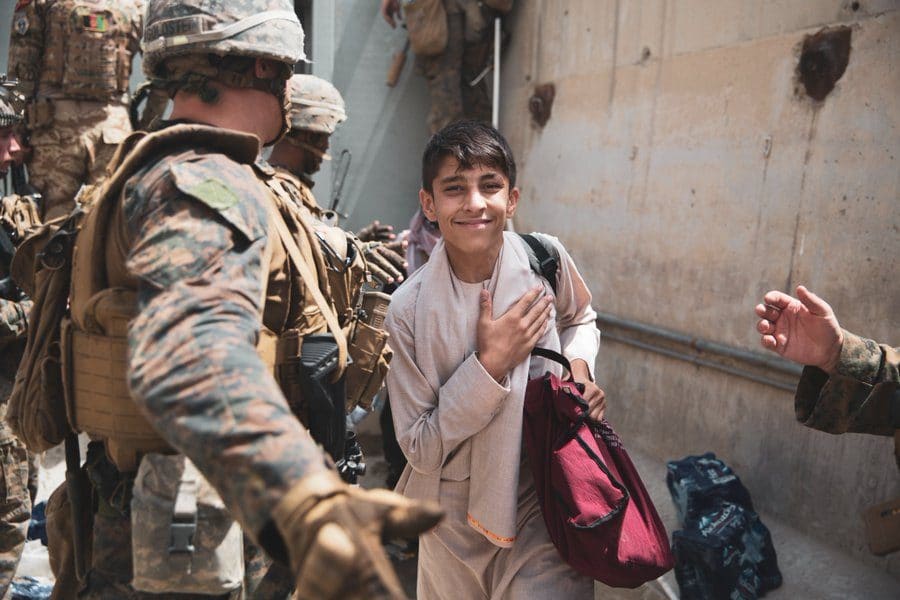 Jeder muss selbst schauen, wie er zum Flughafen kommt, auch US-Bürger
Die Amerikaner haben angeblich bislang 7000 Personen aus Kabul ausgeflogen. 5200 US-Soldaten wurden nach Kabul verlegt, um die Evakuierung abzusichern, was man den "U.S. military footprint" nennt und was nach dem Abzug eine Truppenaufstockung ist. Das US-Militär muss eingestehen, dass es nur den Flughafen kontrolliert, aber nicht garantieren kann, dass Amerikaner und wenige andere, die mit genehmigten Special Immigrant Applications ausgeflogen werden könnten, auch zum Flughafen kommen können. Schon die Menschen aus Kabul haben viele Probleme, wer in den Provinzen zurückblieb, hat praktisch keine Chance. Ähnlich sieht es für die Deutschen aus.
Angeblich setzen nur die Briten und Franzosen Spezialkräfte ein, um den aus Kabul zu Evakuierenden ein sicheres Geleit zu geben. Das Pentagon verhandelt angeblich mit den Taliban, um sicheres Geleit zu gewährleisten. Ein Ergebnis gibt es bislang offenbar nicht.
US-Verteidigungsminister Lloyd Austin musste eingestehen, dass man nicht die Kapazitäten habe, eine sichere Fahrt zum Flughafen zu garantieren und größere Menschengruppen zu evakuieren. Das heißt, die Menschen müssen selbst sehen, wie sie aus Kabul zum Flughafen gelangen und durch Taliban-Kontrollpunkte kommen. Das ist militärisch das Eingeständnis der Niederlage.
Präsident Biden erklärte, die US-Truppen könnten auch über den 31. August in Afghanistan bleiben. Die US-Botschaft forderte auch die US-Bürger auf, einen Antrag auszufüllen und erst einmal geschützt in Kabul zu bleiben. Sie sollten aber überlegen, zum Flughafen zu kommen, wenn sie die Fahrt als sicher beurteilen. Selbst wenn sie ankommen, müssen sie allerdings damit rechnen, dass Eingänge geschlossen sind: "Please use your best judgment and attempt to enter the airport at any gate that is open." Die Verantwortung schiebt man mithin ab. Tausende Afghanen haben sich zum Flugplatz geflüchtet und sind nun konfrontiert mit Taliban-Kämpfern und US-Soldaten.
2000 Personen seien bislang ausgeflogen worden, 15.000 US-Bürger sollen sich aber in Afghanistan aufhalten. Man will eigentlich täglich 5000 bis 9000 Menschen ausfliegen. Die Afghanen werden allerdings nicht in den USA aufgenommen, sondern erst einmal auf den US-Stützpunkten etwa in Katar zwischengeparkt. Die Sicherheitsüberprüfungen und Genehmigungsverfahren sind extrem bürokratisch und können sich über Jahre hinziehen. Wo die Afghanen in der Zeit leben sollen, ist wohl noch ungeklärt.
Die Bundeswehr soll 1000 Menschen nach Taschkent ausgeflogen haben. Aber es könnten noch HUnderte von Deutschen in Afghanistan sein. Die 40 Botschaftsmitarbeiter sind bereits in Katar.