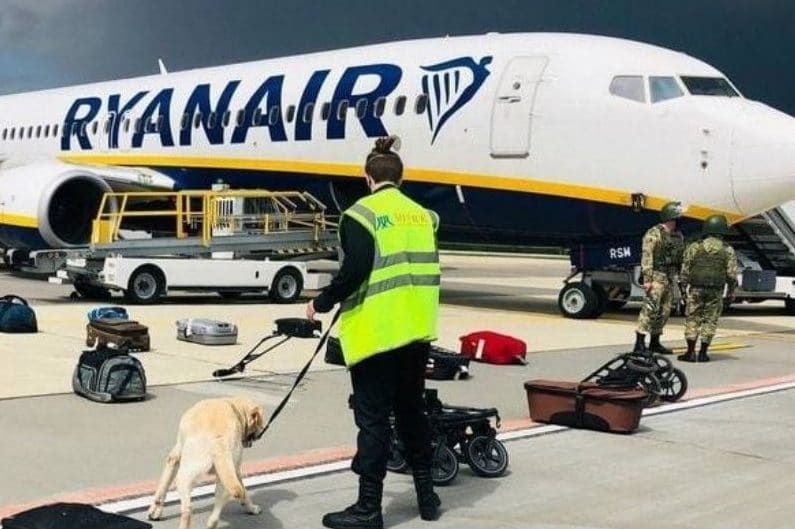 Am Sonntagabend landete wieder eine Ryanair-Maschine in Berlin, aber Verbindungen mit der Notlandung in Minsk, die als erzwungen gilt, werden meist vermieden, so scheint es.
Wieder einmal musste eine Ryanair-Maschine wegen einer Bombendrohung in Berlin auf dem Weg nach Krakau am Sonntagabend landen. Anders als in Belarus war keine Email, sondern ein telefonischer Hinweis mit einer computeranimierten Stimme auf Polnisch in Krakau eingegangen. Die Crew wurde von der Flugkontrolle gewarnt, der Pilot flog Berlin als nächstgelegenen Flughafen an. Nach der Notlandung auf dem Flughafen BER war aber nichts gefunden worden.
Ein Sprecher von Ryanair teilte mit: "The crew on a Ryanair flight from Dublin to Krakow FR1901 yesterday (May 30) were notified by German ATC of a potential security threat on board. The captain followed procedures and diverted to the nearest airport, Berlin."
Ein Sprecher der Bundespolizei sagte, man habe ausschließen müssen, "dass eine Gefahr vorliegen könnte". Nach der Landung mussten alle Passagiere aussteigen und wurden einem Sicherheitsscheck unterzogen, festgenommen wurde niemand. Die Bundespolizei durchsuchte mit 50 Beamten und Hunden  ergebnislos das Flugzeug, die Reisenden konnten mit einem Ersatzflugzeug ihren Flug nach Krakau nach siebenstündigem Aufenthalt fortsetzen.
Bereits im Sommer 2020 landete eine Ryanair-Maschine auf dem Flug von Dublin nach Krakau wegen einer  Bombendrohung in Stansted, worauf RBB24 hinweist.
Auffällig ist, dass die meisten Medien keine Verbindung mit dem Fall in Weißrussland herstellen. Auch hier landete eine Ryanair-Maschine auf dem Weg nach Vilnius in Minsk. Auffällig war hier, dass das Flugzeug umdrehte und nicht in Vilnius landete, das näher gelegen war. Unklar ist auch, wer der Absender der Bombendrohung war und ob die Piloten aus eigener Entscheidung nach Minsk flogen oder ob ein Zwang auf sie ausgeübt wurde. Bekannt ist, dass ein Kampfflugzeug aufgestiegen war und die Maschine begleitete.
Nach der weißrussischen Regierung hatte sich die Crew freiwillig entschieden, Minsk anzufliegen, angeblich hätten Vilnius und andere Flughäfen eine Landung abgelehnt. Nachdem die weißrussischen Sicherheitskräfte den oppositionellen Blogger und Aktivisten Roman Protasevich (Protasewitsch) mit seiner russischstämmigen Freundin Sofia Sapega nach der Landung festgenommen hatte, wurde die Bombendrohung damit verbunden, so dass die Meinung vorherrscht, Weißrussland habe die Landung in Minsk erzwungen, um Protasewitsch zu inhaftieren. Verdächtig war auch, dass drei Personen nicht weitergeflogen waren.
Das von Weißrussland veröffentlichte Transkript der Gespräche zwischen den Piloten und den weißrussischen Fluglotsen lässt keinen Zwang erkennen, die Landung in Minsk wurde empfohlen. Die Rayanair-Piloten sollen 15 Minuten vor der Entscheidung umzudrehen mit ihrer Fluggesellschaft und mit der Flugleitstelle in Vilnius gesprochen haben.
Die Transkripte dieser Gespräche wurden nicht veröffentlicht, wenn sie denn stattgefunden haben, dafür wurde der Verdacht geäußert, das von Weißrussland veröffentlichte Transkript sei manipuliert worden und Minsk verberge, was während der 15 Minuten geschehen ist, wovon es keine Aufzeichnungen gibt. Nach dem litauischen Polizeidirektor Rolandas Kiskis hatte der Pilot die Entscheidung getroffen, nachdem er mit dem Ryanair-Management gesprochen hatte. Ryanair-Chef Michael O'Leary schrieb in einem privaten Brief an den Direktor der weißrussischen Luftfahrtbehörde, es habe es sich um eine illegale Entführung gehandelt.
Im mittlerweile üblichen Stil haben die EU und die USA schnell Sanktionen und schwerwiegende Maßnahmen gegenüber Weißrussland beschlossen, ohne eine unabhängige Untersuchung abzuwarten, die ICAO schon vor Tagen angekündigt hatte. Ein Zwischenbericht soll am 25. Juni vorgelegt werden. Danach wäre noch immer Zeit für Sanktionen gewesen.
Maria Sacharowa, die Sprecherin des russischen Außenministeriums, konnte die ausbleibende Reaktion auf die Notlandung des Ryanair-Flugzeugs in Berlin jedenfalls ironisch oder zynisch kommentieren: "Verlang jemand eine internationale Untersuchung?" Der West habe eine Woche lang hysterisch auf den Fall mit derselben Fluglinue reagiert: "Aber ihr versteht das nicht", sagte sie, "das ist etwas anderes." Russland ist allerdings ebenso wenig bereit, für Aufklärung zu sorgen, sondern stellte sich hinter Weißrussland. In dem Fall dürfte Moskau die Reaktion von EU und USA sogar gefallen, denn sie treibt Lukaschenko und Weißrussland in die Arme von Russland, das schon lange eine Union mit Weißrussland anstrebt.
Wird man auf Vermutungen warten können, dass möglicherweise die Bombendrohung für die Ryanair-Maschine nach Krakau vom westrussischen Geheimdienst ausging, um den Vorfall in Minsk zu verchleiern? Zutrauen könnte man es ihm, aber wo Transparenz fehlt, entstehen Gerüchte und Beschuldigungen – wahrscheinlich nicht ungewollt.
Siehe dazu auch das Gespräch mit dem Brüsselorrespondenten Erik Bonse: Die EU wollte nach dem Fiasko im Nahen Osten außenpolitische Handlungsfähigkeit zeigen