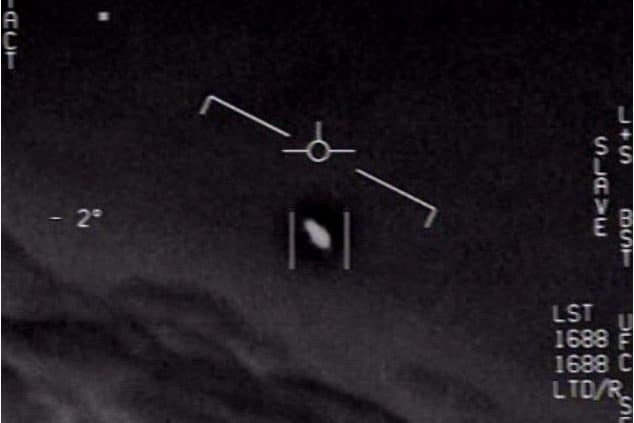 Der Bericht des Pentagon und der obersten Geheimdienstbehörde über UFOs oder UAPs hat das Thema salonfähig gemacht. Für die Hälfte der Amerikaner weisen die vom Militär beobachteten Phänomene auf intelligentes Leben hin.
Dass es intelligentes extraterrestrisches Leben geben kann, ist eine wissenschaftliche Hypothese aufgrund der Annahme, dass es im Universum unzählige Planeten geben sollte, auf denen Leben so ähnlich, wie das unsere, entstanden sein könnte. Es ist auch zu unwahrscheinlich, dass im Universum nur die Erde intelligentes Leben, wenn wir uns so verstehen, entstanden ist. Der Harvard-Astronom Avi Loeb hat kürzlich die Möglichkeit ins Spiel gebracht, dass 2017 entdeckte interstellare Objekt 'Oumuamua ein Artefakt einer extraterrestrischen Zivilisation sein könnte (Der geheimnisvolle 'Oumuamua: Komet oder extraterrestrische Sonde?). Gemeinhin begegnen die meisten Wissenschaftler dem Thema UFO skeptisch, zumindest öffentlich.
Allerdings sehen monotheistische Religionen, die mit dem einen Gott die Auserwählten verbinden, nicht vor, dass etwa Christus sich vervielfältigt haben könnte, um auch extraterrestrische Völker zu beglücken bzw. zu erlösen. Sind ja schon die anderen irdischen Völker nicht paradiesfähig, da man ja nicht Multikulti denkt, sondern selektiv als Auserwählte. Man könnte das Christentum aus dieser Perspektive als Verschwörungstheorie kennzeichnen. Das ginge freilich auch für den Glauben, dass es Aliens gibt, solange dies nur theoretisch möglich ist. Bislang sprechen die Fakten dagegen.
Das Pentagon und das Office of the Director of National Intelligence (DNI) hat nun freilich dem Kongress einen mit großer Spannung und Medienaufmerksamkeit erwarteten Bericht über Sichtungen von UFOs bzw. UAPs (unidentified aerial phenomena) vorgelegt und sagt, dass Manches wie die Geschwindigkeit oder das Flugverhalten nicht erklärt, d.h. auf bekannte Ursachen aufgrund zu weniger Daten zurückgeführt werden könne: "Einige UAPs zeigen eine fortgeschrittene Technik." Allerdings bezieht sich das nur auf 18 von 144 Sichtungen. Weitere Untersuchungen seien notwendig. Für die einen ist nun belegt, dass es keine UFOs gibt, für die anderen das Gegenteil (Vor dem Geheimdienstbericht: Washington gegen die UFOs). Immerhin heißt es auch, es gebe keine Hinweise, dass es sich um Technik von gegnerischen Staaten oder geheime Entwicklungen von amerikanischen Firmen oder Behörden handeln könne.
Vor der Veröffentlichung des Berichts hat das Pew Research Center eine Umfrage in den USA durchgeführt, um zu sehen, wie groß das Interesse ist. In der Tat sagen 65 Prozent, dass es höchstwahrscheinlich intelligentes Leben auf anderen Planeten gibt. Was UFOs angeht, herrscht schön größere Skepsis. Aber mit 51% ist mehr als die Hälfte der Ansicht, dass die vom US-Militär gemachten Sichtungen von UAPs sicher (11%) oder wahrscheinlich (40%) Hinweise auf intelligentes extraterrestrisches Leben seien. Das würde heißen, viele Menschen glauben, die ETs seien bereits hier auf der Erde.
Panik scheint nicht zu herrschen, wie manche Wissenschaftler suggerieren, falls es zu einem ersten Kontakt käme, der dann ja schon stattgefunden hat, auch wenn die Fremden möglicherweise nur als Beobachter oder in Form von Sonden aufgetaucht sind, aber einen Kontakt vermieden haben (oder angesichts der irdischen Verhältnisse davor zurückgeschreckt sind). Manche Wissenschaftler warnen auch, Signale auf der Suche nach intelligentem Leben ins All zu senden, um nicht möglicherweise gewalttätige Kolonialisten und Usurpatoren, wie wir sie aus unserer Geschichte kennen, auf uns aufmerksam zu machen.
51% sagen denn auch, UFOs würden die nationale Sicherheit der USA nicht bedrohen, für 36% sind sie eine geringe, nur für 105 eine große Bedrohung. Anders gefragt, meinte die Mehrheit,  UFOs seien weder bedrohlich noch gutartig, nur 7% betrachteten sie als "unfreundlich". Eigentlich erstaunlich, wenn man auch die in den USA herrschende Fremden- und Migrationsfeindlichkeit betrachtet. Man darf dabei wohl davon ausgehen, dass die meisten Amerikaner nur eine gewisse Neugier oder ein wenig Kitzel angesichts der Möglichkeit von UFOs von Extraterrestrischen aufbringen.
Für manche ist das Thema aber nicht theoretisch. Natürlich wird vor allem von denjenigen, die die vom US-Militär beobachteten Phänomene als Hinweise auf Aliens erachten, der Regierung und dem Bericht Misstrauen entgegengebracht. So wird unterstellt, das Pentagon würde nicht alle Informationen herausrücken. Das war schon immer ein Argument von Verschwörungstheoretikern, seitdem die Diskussion über UFOs aufkam. Als Motiv wurde gerne gesagt, die Regierung würde versuchen, durch Geheimhaltung Panik in der Bevölkerung zu vermeiden. Unklar bleibt dabei, ob die Regierung oder das Pentagon mit den Aliens hinter dem Rücken der Bevölkerung kooperieren. Manche hatten ja behauptet, sie seien von Aliens schon mal entführt worden, um sie zu untersuchen.
Schon im Vorfeld der vom Kongress geforderten Veröffentlichung des Berichts, dem weitere folgen sollen, ist das Thema aus der Schmuddel- und Verschwörungsecke in den USA gehoben worden. Selbst Barack Obama hatte die Debatte angeheizt, indem er sagte, es gebe Aufnahmen von Objekten im Himmel, "von denen wir nicht genau wissen, was sie sind". Joe Biden hält sich hingegen zurück. Die Washington Post schreibt: "Die Stigmatisierung von UAP-Vorkommnissen wurde dramatisch reduziert. Die Bürokratie der nationalen Sicherheit scheint sich aufzurüsten, um mehr Daten zu sammeln. Das ist ein Thema, an dem der Kongress sehr interessiert ist." Breitet sich in den USA die Sehnsucht nach dem ganz Anderen aus? Wird die Nation von einer Verschwörungstheorie angesteckt? Ist das eine Kompensation der Religion in God's own Country? Oder ist es tatsächlich sinnvoll, Energie auf der Suche nach einer Hypothese aufzuwenden, für die bislang wenig spricht, außer einer gewissen Wahrscheinlichkeit?