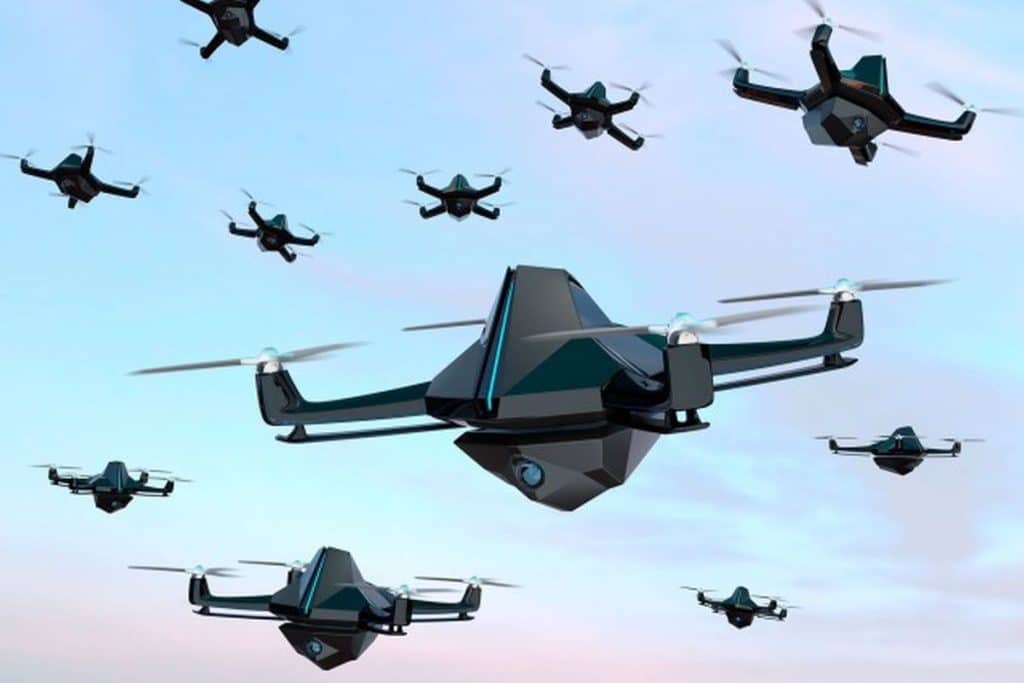 Auch wenn es keine Kampfdrohnen gewesen sein dürften, ist damit eine Schwelle überschritten worden, die das Wettrüsten mit autonomen Systemen verstärkt.
In Kriegen und Konflikten an der Peripherie der Einflusszonen der Großmächte werden neue Taktiken und Waffen ins Spiel gebracht, um sie zu testen, aber auch um ihre Leistung vorzuführen, um sie für Exporte attraktiv zu machen. Waffen sind auch und nicht zuletzt Waren, die neben Profiten für die Industrie militärische Bande und Abhängigkeiten schaffen sollen.
Die USA haben mit dem Afghanistan- und dem Irakkrieg begonnen, Kampfdrohnen einzusetzen und entsprechende Strategien entwickelt. Daneben wurden viele andere Waffensysteme getestet, darunter etwa Kampfroboter auf dem Boden, die dann aber nicht weiter eingesetzt wurden. Zuletzt hat die Türkei ihre Kampf- und Kamikazedrohnen im Krieg zwischen Armenien und Aserbeidschan vorgeführt. Es waren vor allem auch die Drohnen, die Aserbeidschan eine Machtüberlegenheit sicherten und den Krieg schnell beendeten.
Israel war bei der Entwicklung von Kampfdrohnen neben den USA ein Pionier und ist derzeit der weltweit größte Exporteur. Schon in den 1970er Jahren setzt Israels Militär Dronen zur Aufklärung und als Mittel, bemannte Flugzeuge vorzutäuschen. Israel begann mit der Taktik der "gezielten Tötung" gegen angebliche Terroristen parallel zu den USA. Zunächst mit aus der Ferne gezündeten Sprengsätzen oder Kampfhubschraubern mit Überwachungsdrohnen, dann mit Kampfdrohnen, die in den Kriegen mit Hisbollah und Hamas im Gazastreifen immer stärker eingesetzt wurden.
Bei den letzten Angriffen auf Hamas und den Islamischen Dschihad im Gazastreifen hat Israel angeblich erstmals mit Künstlicher Intelligenz (KI) gesteuerte Drohnenschwärme eingesetzt. Nach Berichten wurden so von einer neuen Seek-and-Destroy (S&D)-Einheit Stellungen auch in Gebäuden identifiziert, die dann mit Bodenraketen, Präzisions-Mörsern und Kampfdrohnen angegriffen wurden. Der Einsatz wird als Revolution gehandelt, als Durchbruch zu einer neuen Kriegsstrategie, auch wenn es nur technisch schlicht der Schritt war, nicht einzelne Drohnen, sondern einen Schwarm von Drohnen des Rüstungskonzerns Elbit Systems, beispielsweise THOR-Drohnen,  mit C4I (command, control, and communications and intelligence) und dem Abgleich von Zielen mit Informationen aus verschiedenen Datenbanken zu benutzen.
Möglicherweise hatte aber bereits die Türkei in Libyen Ende 2020 einen Schwarm von Kamikazedrohnen eingesetzt (In Libyen wurden erstmals autonome Kamikazedrohnen eingesetzt).
Neu ist, dass nicht ein einzelne Drohne ferngesteuert wird oder einen programmierten Weg fliegt, sondern dass Drohnen sich eigenständig ohne zentrale oder menschliche Steuerung koordinieren. Das ikst ein entscheidender Schritt hin auf autonome Waffensysteme. Es agieren nicht mehrere Drohnen nebeneinander, sondern ein Schwarm ist ein aus vielen Akteuren bestehendes System, das eine Abwehr überwältigen kann. Im aktuellen Fall hatte es sich wohl nicht um Kampf-, sondern um Aufklärungsdrohnen gehandelt, so dass die den Schwarm koordinierende KI nicht über den Einsatz von Waffen entschieden hat. Aber das steht an und wäre nur eine andere Aufgabe, also nur ein kleiner Schritt.
Die Einführung von Schwarmtechnik in militärischen Konflikten wird die Bemühungen verstärken, Abwehrmöglichkeiten zu entwickeln, die von der Zahl von Drohnen oder anderen Robotern nicht überflutet werden können. Israel hat das Raketenabwehrsystem Iron Dome zur Abwehr von Kurzstreckenraketen, Granaten und Drohnen entwickelt. Im letzten Gaza-Konflikt, als Hamas in kurzer Zeit Tausende von Raketen auf Israel abfeuerte, zeigten sich bereits die Grenzen. Zwar konnten nach israelischen Angaben 90 Prozent der Raketen und eine bewaffnete Drohne abgeschossen werden, aber mit mehr Raketen würden auch mehr durchkommen. Und bei koordinierten Schwärmen von manövrierbaren Raketen oder Drohnen, zumal wenn es sich um Hyperschallwaffen handelt, hätte Iron Dome wohl keine Chance mehr.
Die Angst besteht, dass jetzt Truppen, die über Schwarmtechnik verfügen, ihre Gegner schnell überwältigen können. In vielen Staaten wird die Schwarmtechnik entwickelt und mit ihr experimentiert. Interessant ist dabei, möglichst große Schwärme auch mit unterschiedlichen Drohnen und unterschiedlicher Bewaffnung zu koordinieren, was autonome Steuerungssysteme voraussetzt. Israel hat wahrscheinlich nur den ersten Einsatz unter realen Bedingungen gemacht. Und es besteht das Risiko, dass Terroristen, Kriminelle und Aufständische ebenfalls Drohnenschwärme einsetzen könnten, wie sie bereits damit begonnen haben, Drohnen als Waffen zu verwenden.